Home » Change Leadership, Strategic Communications
Developing a Powerful Change Agents Network
One of the best strategies for gaining buy-in and support for your business initiative is through stakeholder engagement. By "engagement" we mean not only communications, but active involvement of the people who have a vested interest in the outcome of the initiative. Bear in mind, it is human nature for us to resist change when it is foisted upon us, even if that change is in our best interest. We typically do not like actions that are done TO us.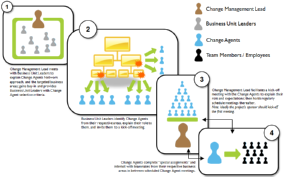 Imagine if, right now, your manager were to come take away your computer and give you a different one (e.g., swap your laptop for a desktop or vice versa). Without having had a voice in the decision or an opportunity to provide input, you would likely feel resentment. Moreover, your productivity would take a big hit since you did not have time to prepare – mentally and practically – for the computer swap. A much better approach would be to involve you in the decision-making process several weeks in advance, allow you to share your input, and provide you with information and tools so that you could prepare yourself.
If we extrapolate this example to a larger-scale – for example 100s of people in a division or 1,000s company-wide – we can easily imagine the level of collective resistance and anxiety that lack of stakeholder involvement would cause. Yet, this happens all the time. It's the exception, not the norm, when a project team plans and executes highly effective stakeholder engagement as part of a strategic business initiative. But, effective stakeholder engagement can be done well, and we will share with you a proven strategy that has worked well with several of our clients across a variety of business initiatives, from division-specific transitions to company-wide billion dollar transformation efforts.
This strategy is generically called a Change Agents Network, though it is typically given an internally branded name for the specific client initiative (e.g., Change Ambassadors, Vanguards, Change Champions, etc). The approach corresponds to the top-end of the Stakeholder Engagement Strategy continuum, indicating a high degree of stakeholder involvement. In simplest terms, the Change Agents Network brings together a representative cross-section of the impacted stakeholder segments and provides them with a valuable role in the change process. Below is a high-level walk-through of an example Change Agents Network strategy, which you can also review in the accompanying overview slides.
Change Agents Network Strategy
The Change Leader (who should be an integral part of the program management office or PMO), along with the program manager or sponsor, meets with Business Unit Leaders from the impacted areas of the organization. The Change Leader explains the objectives of the Change Agents Network and walks through the process involved with implementing it. Timing: 2-3 weeks
Based on the selection criteria provided by the Change Leader, the Business Leaders identify individuals within their respective teams who would make good Change Agents. Each individual receives a memo from their Business Leader explaining that he/she has been hand-selected to participate in the Change Agents Network, and is invited to a kickoff meeting. Timing: 1-2 weeks
The Change Leader, along with the program manager or sponsor, conducts a kickoff meeting to cover the following topics: introduction to the Change Agents Network, expectations of the Change Agent role, a primer on organizational change management, and next steps. The Change Leader convenes the network on a regular basis using a combination of face-to-face and virtual meeting methods. Timing: usually every-other-week for several months
The Change Leader provides the Change Agents with specific tasks in the form of "special assignments." These assignments involve interacting with peers and team members and may include administering pulse surveys, conducting interviews, collecting FAQs, identifying early wins, and other activities to augment the organizational change strategy and support the objectives of the business initiative. The Change Leader should regularly incorporate the insights from the Change Agents and adjust change management tactics accordingly.
Important Note: The Change Agents Network must be employed as part of a comprehensive organizational change strategy, and not simply as a standalone activity. If you would like information about how to develop a comprehensive organizational change strategy or develop your own Change Agents Network, please contact us.
>> Click here to download the Change Agents Network overview.
Other articles you may be interested in: