Home » Change Leadership, Program Management, Research & Studies, Information Technology
Embracing Mobile Computing to Help Drive Change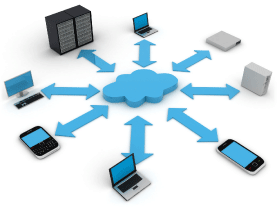 "Can we make that information available on an iPad?"
It is one of the most common requests we hear from executives in the systems transformation space – no doubt a confluence of technology and regulations. Call it the "cool factor" or simply a clever way for executives to avoid getting their fingers dirty in corporate regulations; executives have become mobile-friendly at an exciting (or, depending on where you sit, alarming) rate.
A recent global survey of 363 C-level executives, Digital Megatrends 2015: The Role of Technology in the New Normal Market by Oxford Economics, identified two megatrends that will dramatically affect the workplace of the future: the proliferation of mobile technologies and the increase in cloud computing.
Further confirming this tipping point, respondents to the survey said that mobile technologies, more than any other technology, are more likely to help business over the next five years. ABI Research expects the global market for mobile commerce to reach $163 billion by 2015. Gartner Inc. estimates the global cloud computing market will reach $148.8 billion by 2014 (compared with 2010, when the market was $68.3 billion).
This means one thing for project teams and sponsors: If you want to get your business executives on board with new software programs, figure out how to render that information on a tablet or smartphone.
Transportation Company Implements Mobile Strategy
On a recent project led by Newport Consulting, a transportation company decided to take mobile computing a step further. As part of an enterprise-wide software deployment to its 10,000+ employees, they launched a two-pronged digital office strategy to harness both the cloud computing and mobile technology trends.
First, the IT division spearheaded an effort to host the company's critical back-office business applications on remote servers. Once these business applications were running in the cloud, employees could access them securely through any Internet connection. Next, because the applications could be accessed securely online, the IT division working with Human Resources launched a "bring your own device" (BYOD) program. Through it employees could bring their own MacBook Pros, netbooks, tablet computers, and smartphones into the workplace and access the company's network along with their business applications. This program allowed the employees to keep everything on one device, rather than needing to switch between personal and business devices.
One of the initial concerns was the security of corporate information. But the company's IT division actually saw a substantial decline in security threats, and the ability for employees to use their own devices significantly boosted employee morale and increased productivity. The successful deployment of the cloud computing strategy and BYOD program was made possible by a strong program management structure that included a robust organizational change strategy.
The Organizational Change Management Strategy
The cloud computing and BYOD programs employed a multi-faceted change management strategy to drive stakeholder awareness and excitement. In particular, two components of the change strategy proved to be very effective:
Mobile Executives: In the early stages of the program, the project team provided executives from each business area with their own Motorola Xoom tablet computer pre-configured with the company's logo on the desktop background and access to the business applications in the cloud. Executives were able to experience first-hand the cloud computing and BYOD capabilities. Executives carried their tablets into team meetings and proudly demonstrated the "cool" capabilities that were available. By default they became highly visible champions for the new programs.
Change Agents Network: The project team launched a network of change agents with the goal of involving a cross-section of impacted stakeholders in the BYOD planning and rollout process. These change agents served as part of the extended program team and augmented the change management strategy by helping to conducting interviews, collecting FAQs, and identifying early wins using BYOD. >> Read more about this approach here
To learn more about the comprehensive change management strategy used by our transportation client, or to have us review your change management strategy, contact us. This case study was recently published on TechTarget's SearchSAP website and can be found here.
Other articles you may be interested in: