Home » Recently Published Articles
Is Telecommuting Right for Your Business?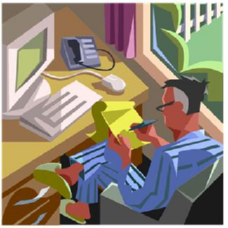 Technology has reached the point where many employees can work from their home offices just as effectively as they can from the company office. While certain businesses and jobs require a staffed office, it may surprise you to learn just how many jobs can be done remotely. Larger companies generally have roles, such as call center representative or inside sales agents, whose work can be performed outside of the office.
Take Jet Blue for example, where 1,800 of its 2,100 Customer Support crewmembers work from their Salt Lake City-based homes (read more here). The work-from-home model, created during JetBlue's earliest days as a company, works well for those who seek flexible schedules and the comfort of working from home, and allows the company to ramp up or down quickly depending on operational needs.
Telecommuting is now listed as a "Best Perks" category in Fortune's list of Top 100 Companies to Work For. Industry giants like Cisco lead the way with 90% of their workforce telecommuting and telecommuting is becoming more common in big businesses for a few reasons.  The underlying technology that enables telecommuting has improved by leaps and bounds in recent years. The ubiquity of high-speed internet, as well as a host of online collaboration tools has made it easy to be very productive regardless of geography. But it is not just the technology; it is the new generation of employees as well. Generation Y (and to a great extent, X) have grown up in a connected world where the internet is pervasive and they are used to working with the net-connected "smart" devices.
Benefits of a Telecommuting Workforce
Savings
Having employees work from their homes helps to reduces overhead expenses such as leased office space, utilities, and other shared costs. While there may be an initial technology investment required to get employees up and running from home offices, the long-term operational cost savings typically offset these set-up costs. Employees also realize personal time savings as a result of eliminated commute to and from the office.
Efficiency
A surprising find is that telecommuters often experience boosts in productivity. This goes along with the saying "a happy worker is a productive worker" and this theory works on a few levels. Employees feel that their managers trust them to work remotely and achieve their defined business objectives, and this becomes a self-fulfilling prophecy of sorts. Jet Blue claims that after switching to home based customer service agents the company saw an immediate 25% increase in productivity.
Teamwork is Easier than Ever
Online collaboration tools have made it very easy to work remotely.  Software such as Google Docs allows multiple users to work on a variety of documents at the same time; Dropbox allows sharing of files and folders among computers and mobile devices; GoToMeeting enables users to share their desktops to share information live and co-create. With the addition of a webcam, real-time face-to-face collaboration is still possible with your manager, team, and clients.
Potential Challenges of a Telecommuting Workforce
Less Control
Telecommuting requires managers to relinquish some of their control. There is no chance for a manager to stroll the halls to check on employees and this lack of control can be unsettling to some. Telecommuters can also be harder to reach if problems arise. Even with the improved technology, users still have to rely on it as an intermediary and it's no substitute for an informal drop-in to an office to hash out a problem.
Telecommuting Requires the Right Fit
Not every employee is suited for telecommuting. A recent study of telecommuting trends by the Monthly Labor Review shows that the highest percentage of telecommuters have a B.A. or higher. One might infer that these college graduates tend to be more driven and passionate about their work, and they can ultimately be more trusted to produce quality work from wherever they are. While many jobs can be worked from home, the right fit needs to be found with the employee.
Performance Monitoring Can be Difficult
Employees working from home generally do not adhere to a classic 9-5 schedule, and tracking the number of hours worked for non-exempt employees can be a challenge. For this reason, salaried workers tend to make up a large percentage of telecommuting jobs. While time tracking software is available to monitor workers' activities and to ensure that they are staying on task, this type of "big brother" tracking infringes on the autonomy and flexibility that most telecommuters are seeking. Inside sales that are commission-based is a good example of a telecommuting job where performance can be easily monitored without time tracking.
Telecommuting is only going to become more popular as technologies continue to improve and tech-savvy professionals become the norm. There are economic and intangible benefits to both the employer and the employee. However, there are some potential drawbacks that need to be carefully considered when determining whether telecommuting is a good option or not. The pros and cons should be weighed before a business begins moving positions to a telecommuting arrangement.
Guest authored by Miles Hall, who loves writing about the business world. He contributes to businessbroker.net, and is primarily interested in businesses for sale.
Other articles you may be interested in: