Home » Employee Engagement, Talent Management, Team Effectiveness, Third-Party-Content
All for One: Fostering a Passionate Workforce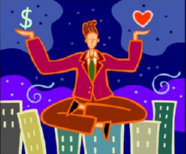 It should be no surprise that passionate employees are more productive than employees that are just trying to climb the corporate ladder. A great employee should be first and foremost passionate about his or her work, and then be passionate about the company he or she works for. So how does an organization go about inspiring passion in its workforce? Much of the inner fire must come from the employees themselves, but there are a few things that leaders can do to inspire passion.
Spotting Passion
As a leader, you may not be the orator that Churchill was, or have the presence that Napoleon did, so inspiring heart-wrenching passion in your workforce could be difficult if you don't have a good base to start with. Building a passionate workforce starts with the hiring process and being able to spot passion in an interview.
Look for excitement. While professionalism and a calm demeanor are what interviewees strive for, pay special attention to candidates who get excited and can't help but talk excitedly about positive past experiences and the work they've been a part of.
Ask the right questions. Ask specific questions like, "What do you think the biggest innovation has been in our industry within the last year?" or "Who do you admire in our industry?" Also ask what kind of readings and events they involve themselves with in relation to their profession. Detailed and relevant answers will show that the potential employee keeps up with current trends in their field and is passionate about continuing to learn.
Be open to questions. Recognize what type of questions the candidate is asking about the position and your company. Detailed, specific questions about the job duties and chances to work on big projects hint towards a passion for the work involved while questions focused on pay or chances for promotion hint that they're only interested in the money.
Leaders Who Inspire Passion
It is very difficult for employees to be passionate about their work if their leaders do not share the same enthusiasm. Effective managers should instigate and encourage open and free discourse and be excited about a completed part of a project or new ideas brought forth by their people. Bosses should roll up their sleeves once in a while and jump in to tackle big projects. This is a balance, of course, as bosses can go too far and undermine their own respect as an authority figure. It can be difficult to maintain the right balance between directing and chipping in, but doing so will create a much more comfortable work environment that promotes passionate individuals who produce great work.
Workspace that Inspires Passion
If you have hired passionate professionals and have fostered a relationship that promotes teamwork and free discourse you probably have a high-performing team, but there is always room for improvement – and the work environment can help. A move away from cubicles is one of the easiest things to do to foster teamwork and creativity, which supports passionate individuals performing at their best. Individual work stations are obviously needed, but having groups in the same room helps with brainstorming and getting past problems even if everyone is working on an individual project. Break rooms and meeting rooms should be bright and colorful and the more natural or ambient lighting in the office the better. Google's offices around the world are famous for redefining what a work environment can look like; take a look at some of their European offices. Obviously this kind of office isn't for every business, but don't you think Google's employees are passionate and excited to come into work?
Passion for the Company
In the same sense that more businesses are moving away from the classic cubicle system, more businesses are also trying to move away from the classic corporate model. Instead of wanting employees to pledge allegiance to "the company" and put it above all else, a shift is occurring that puts the focus on the profession or work first. When employees are "passionate" about the company they get caught up in trying to climb the corporate ladder and it can become a political or money game. This quells passion because if they're putting in extra time on a project it is more often than not because they feel pressured to in order to advance, not because they want to. This isn't to say that passion for the company isn't important, it is! But it should be fostered in new ways. Community service, charities, going green, any initiatives that the business takes on that workers can feel proud about helps to inspire passion in the company.
Fostering a workforce that is passionate about the work they are doing is one of the biggest improvements a business can make. The quality of work undoubtedly improves as do client relations and employee retention, which will benefit your company when you look to hire from within.
Miles Hall writes frequently about the business world. He is interested primarily in writing about

selling businesses

. 
Other articles you may be interested in: