Home » Change Leadership, Strategic Communications, Program Management, Research & Studies, Information Technology
Demystifying IT Organizational Change Management (White Paper)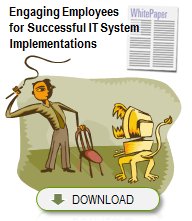 Our previous post highlighted how companies under-invest in organizational change management when it comes to system implementations. Many excellent IT system implementations never realize the long-term benefits they set out to achieve because companies focus disproportionately on the structure and technical aspects of the IT program itself, and not on engaging employees in the process – showing them a "truth" that motivates them, at a very basic human level, to invest them in the change effort.
The most well-designed system implementation, if not centered on people, is doomed to fall short of its objectives. A successful IT change program links the logical—"here's a great new IT system that will enhance your productivity"—to the emotional: "Your team could spend all night tabulating this stack of paper. Or you can use the new database and be out by 5 p.m." Abandoned IT projects typically suffer from a lack of balance between the "analyze-think-act" side of the brain and the "see-feel-act" side of the brain.
Gartner recommends embedding organizational change management into the IT program structure and treating it as being of equal importance as the technical aspects of the implementation. The change management effort should begin as early as possible. Assessing change impacts early allows the project team time to address issues, obtain buy-in from business sponsors and end-users, and develop interventions that help the organization adapt to new processes and technologies, and adopt new behaviors.
IT decisions can be made more effectively, and executed far more smoothly, if human behavior is considered in equal measure with the IT strategy. In order to forge fundamental change in a complex organization, and ensure the success of the system implementation, the IT program team must address the organizational change fundamentals.

To learn more, click here to download the white paper Demystifying IT Organizational Change Management (PDF 351KB)

Other articles you may be interested in: