Home » Change Leadership, Change Management Tools
How to Develop a Powerful Case for Change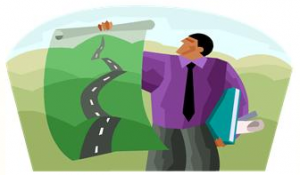 In previous blog posts we addressed the importance of creating a sense of urgency for your organizational change initiative (e.g., Use Heart and Mind Appeal to Create a Sense of Urgency). Establishing a proper sense of urgency for change is often a skipped step or it is assumed that the sense of urgency is already shared broadly among stakeholders in the organization (it rarely is).  Creating urgency is of such foundational importance that it is the first step in Kotter's 8-Step Process for Leading Change and the second step in the Accelerating Change & Transformation (ACT)TM  model.
One of the best ways to cultivate a sense of urgency is to craft a powerful Case for Change. Simply put, the Case for Change is a story that explains the changes coming to the organization. Its objective is to provide a common baseline of awareness and understanding among stakeholders. How the Case for Change is constructed and communicated is very important.
Below is the method we've developed and refined over years of supporting successful business transformations for Fortune 500 clients – most involving thousands of impacted stakeholders and multi-billions of dollars (in investments or cost savings). It's simple, yet effective.
Crafting the Case for Change
Our medium of choice for communicating the Case for Change to others is PowerPoint (did you expect anything less from a management consultant?). The rule of thumb we use: tell the Case for Change story in 10-15 slides and include visuals/graphics to enhance the story wherever possible (a picture can often convey what words cannot, or at least help convey it more potently).
The major content pieces to incorporate into your Case for Change are as follows:
Context: Set the stage by explaining why changes are needed now. Be sure to include a mix of internally driven reasons (opportunities) and external factors (threats). Include summary analysis from your business case as appropriate. E.g., changing regulations, need for leaner operations, new market entrants, opportunity to build internal capability while customer demand is low.
Changes: At a high-level, articulate what will change and who will be impacted. Conversely, be sure to highlight what will not change, as this provides boundaries and a sense of stability for people. E.g., organization structure will change, we will deploy new technology tools, we will preserve our culture, changes to compensation are out of scope.
Process: Describe how you will implement the proposed changes and the expected timing of the changes. Provide immediate next steps and introduce team members who will lead the change effort. E.g., high-level Gantt chart, quarterly objectives, program team structure.
Benefits: Highlight the benefits that are expected as a result of the changes. Be sure to address all levels of benefits: enterprise-wide, specific division(s), and individual roles. Include economic highlights from your business case as appropriate. E.g., improve the company stock price for shareholders, decrease administrative burden, create more opportunities for career advancement.
Consequences: List out the consequences of delaying these changes. This is an often overlooked, but very important aspect to the story. These are the counterpoints to those who would say "we can wait until next year to do this." E.g., customers will switch to our rival competitor, missing financial targets, unable to fulfill orders.
Expectations: Inform your audience (who are your stakeholders) about what is expected of them. Make it clear that everyone has a role to play in successfully implementing the changes. E.g., Remain open to new ways of working, actively provide feedback to managers, participate on transition teams, help design solutions.
Commitment: In most cases, the senior executive sponsor should present the Case for Change initially. Then subordinate leaders should present it to their respective teams from there (a cascade approach). To close the presentation, each leader should state the explicit commitments that the leadership team has made to the change process. Not only does this foster trust, but it makes the leaders accountable to their employees. E.g., leadership will model new behaviors, will share information with you in a timely manner, will have an open door policy for feedback, etc.
We recommend you address each of the above content pieces with no more than one or two slides. While you may have sophisticated financial models, reams of in-depth analyses, and a 100+ page business case, this is not the place to present it. Use follow-up meeting to deep-dive into the data and additional information with key stakeholders, as needed.

Again, your objective with the Case for Change is to establish baseline level of awareness and understanding of the changes. You can then build from this foundation with subsequent communications and stakeholder engagement over time.
Check out the Case for Change tool that is part of Change Accelerator (www.ChangeAccelerator.com).
Other articles you may be interested in: