Home » Change Leadership, Talent Management
The Multi-Million Dollar Cost of Under-Performing Leaders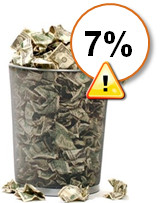 Leadership development initiatives are often dismissed as being too disruptive, too expensive, or too time consuming – simply not a priority. I'll share a vignette and new research that may convince you otherwise.
Recently, I was working with a multi-billion dollar manufacturing company. Our shared objective was to build internal change capability in response to a shifting marketplace and their need to take the company in a radically new direction.
The approach was two-fold: 1) partner with the senior executives – individually and as a team – to enhance their change leadership skills, and 2) build an in-house organizational change management capability that could be deployed against strategic initiatives.
In the process of working with the senior executive team we uncovered a broader need, beyond just change leadership. In addition to the need to lead change more effectively, the leaders also needed to strengthen fundamental skills, including role modeling new behaviors, inspiring employees, and aligning as a senior leadership team.
To help make the case for this additional scope (and investment), we presented recent research findings from the The Ken Blanchard Companies. In their report, Making the Business Case for Leadership Development: The 7% Differential (2011), an analysis of 200+ companies revealed that every year of delaying leadership development costs the typical organization an amount equal to 7% of their total annual sales.
In the case of my client, their under-performing leaders were potentially costing them more than $100,000,000 each year!
According to Blanchard, less-than-optimal leadership practices cost companies by negatively impacting employee retention, customer satisfaction, and overall employee productivity:
Overall employee productivity: Most organizations are operating with a 5% to 10% productivity drag that better leadership practices could eliminate.
Customer satisfaction: Better leadership practices can lead to higher employee satisfaction scores, which translate into improved customer satisfaction scores, directly impacting the bottom-line.
Employee retention: Costs associated with replacing a skilled employee include the cost of covering the position while vacant, cost of finding a replacement, and cost of getting a new person up to speed. You can probably discount this factor somewhat, given our struggling economy.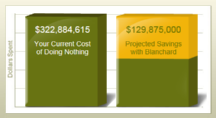 This research highlights an important lesson: it's not always obvious, but leadership development inaction can come at a steep price. If you would like to assess the cost of inaction for your company, check out Blanchard's Cost-of-Doing-Nothing Calculator.
If you liked this article, click one of the links below to share it with a colleague:
Other articles you may be interested in: