Home » Change Leadership, Research & Studies, Change Management Tools
How to Conduct High-Impact Focus Groups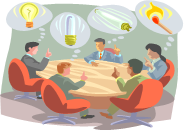 Our last article discussed how to conduct effective stakeholder interviews for the purpose of developing your organizational change strategy. This week we address a second important method of gathering qualitative data from stakeholders: focus groups.
Focus groups are an interactive way to get cross-functional perspectives on a single issue and can prove very helpful during the course of an organizational change program. They require only moderate effort to conduct and can yield loads of valuable information in real-time. Focus groups can be used to:
Encourage discussion that generates opinions, beliefs, and attitudes about a specific topic of interest
Learn about how and why a particular group of people approach an issue
Build excitement and generate new ideas
For example, focus groups can be used to help define key roles and responsibilities for new processes, determine customer needs, and identify solutions to specific problems.
Follow this six-step process to conduct high-impact focus groups:
Step 1: Define the Purpose
Clarify the scope and purpose
Define expected outcomes
Ensure that a focus group is the right tool to achieve objectives
Step 2: Identify the Participants
Focus groups are ideally composed of six to eight people, though size can range from four to 12 participants
Determine selection criteria for participants
Invite participants with a positive message
Strive to invite participants who do not know each other
Ensure all participates are affected by the issue in some way
Step 3: Manage the Logistics
Select an appropriate environment
Select a moderator
Develop a list of materials and aids required for the session
Assign a note-taker to capture the session and ensure objectives and outcomes are met
Step 4: Develop the Questions
Determine the number of questions necessary based on the duration of the focus group
Follow key question with "probes" (3-5 bullet points) that allow the further investigation of a specific topic
Four types of open-ended questions are typically asked during focus groups: Introductory, Transition, Key, and Ending
Organize the questions in a logical order and develop a detailed session design and script
Step 5: Conduct the Session
Incorporate a standard introduction
Focus discussions on the key issues
Use pauses and probing questions to further the discussion and surface core issues
Listen for comments that are vague or inconsistent and seek more clarification
Use subtle group control to manage experts, dominant talkers, shy participants, and ramblers
Capture as much of the session as possible with good note-taking
Capture all voices—there are no "dumb" answers
Use an appropriate conclusion to summarize, seek missing points, and thank the group
Step 6: Analyze the Results
Review results for consensus on an issue
Identify patterns in responses and general themes
Clearly identify reasons of disagreement and agreement
Report any unusual circumstances that may have influenced the results of the focus groups
Write a summary report of the key findings
Ask several focus group members to review the report for accuracy and completeness
Determine future data collection steps that need to be taken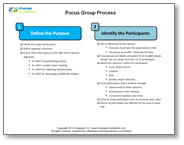 Following these guidelines will result in a high-impact focus group that yields quality information for you and your change management team. Download the Focus Group Process Tool. If you would like help conducting a focus group as part of your strategic business initiative, contact us. Also, you can find other valuable change tools like this one as part of the Change Accelerator toolkit.
Other articles you may be interested in: