Home » Employee Engagement, Culture, Human Capital Management, Leadership, Management, Relationship Building, Talent Management
Assume Positive Intent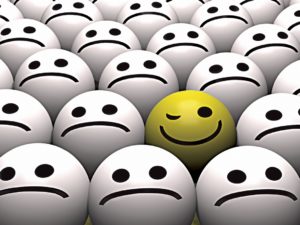 Connecting with coworkers, clients and customers has never been easier. Gone are the days when we had to drive across town to chat with someone in a different office. When we run into a challenge or have a question regarding our work, we have a plethora of communication tools at our fingertips: email, text, instant messaging, and the list goes on.
Yet, how many times have you received an email response or stared at a text feeling more frustrated and confused than when you started. In today's fast paced world of electronic exchange, messages can easily be misinterpreted, and emotions can escalate quickly as a result. A curt interaction, even when softened with a cheerful emoticon, can really strike a nerve. Now, not only do you still have that lingering challenge to face or question to answer, you also have to manage the mounting frustration and annoyance attached to it.
What if… you proactively assumed positive intent when working with others? Your whole approach to that person and their response can change in an instant. Forget about taking a deep breath before you act because the situation no longer warrants it. If you assume that person's response is negatively charged, you will be frustrated, angry, even livid.
However, if you remove those emotions and move forward assuming a positive intent, your perspective and your own reaction will be drastically different. You no longer waste time ruminating and analyzing the situation. In fact, you begin to approach the situation (and that person) with an open mind and collaborative attitude. Your ability to listen improves because you are no longer fixated on how this person may be trying to sabotage you and your efforts. At the end of the day, you gain more fulfillment from your work, and that leaves you feeling energized instead of exhausted.
If this all sounds too "touchy-feely" for you, consider this. Indra Nooyi, the CEO of Pepsico employ this approach every day. She offers this advice:
You can either misconstrue what they're saying and assume they are trying to put you down, or you can say, "Wait a minute. Let me really get behind what they are saying to understand whether they're reacting because they're hurt, upset, confused, or they don't understand what it is I've asked them to do." If you react from a negative perspective – because you didn't like the way they reacted – then it just becomes two negatives fighting each other. But when you assume positive intent, I think often what happens is the other person says, "Hey, wait a minute, maybe I'm wrong in reacting the way I do because this person is really making an effort."
Let's take a moment to play this out and see what happens. By way of example, Jane and Bob have been working on two separate projects for several months now, and their deadlines are quickly approaching. Both of them have some final questions they need answered before they can complete their work. Each sends an email to Mary in search of answers. Mary responds to both of them with the same response, "I don't know. You're going to need to work with the Accounting department to get the answers."
Jane quickly becomes irritated. Why isn't Mary willing to help? She never takes responsibility for anything, and she always relies on other people to pick up the slack. Jane begins to wonder if Mary might be angling to make Jane look bad. After all, Mary never welcomed Jane onto the team when she first joined. At this point, Jane is so worked up that she has to step away from her desk and get some fresh air before she can even begin to focus on reaching out to accounting.
Meanwhile, Bob assumes positive intent. He does think Mary's response was short, but he assumes she must be pressed for time. He makes a mental note to connect with Mary in person later and see if she has any additional insights. He gets to work by reaching out to Accounting for the answers and goes about the rest of his day.
Later that afternoon, Mary runs into both Jane and Bob at a meeting. Jane seems visibly annoyed, while Bob asks Mary how her day is going. "It's been really busy! I want to thank you both for reaching out with your questions. I hope you were able to connect with Accounting to get the answers. I didn't want to make you wait on me to get back to you, and I knew Accounting could get you a quick response. Thanks for the great work!" Mary explained.
Jane missed an opportunity to assume positive intent, and it cost her. She wasted precious time trying to decipher a perceived threat, when there was none. Perhaps most importantly, her stress levels went up and her satisfaction surrounding her work most surely went down.
Assuming positive intent may not always be easily accomplished. However, if you focus on the benefits of what it can provide, it is clearly worth the effort. Spend a few days giving it a try. It will radically change the way you approach others, and in turn, the way they respond to you!
Other articles you may be interested in: