Home » Recently Published Articles, Business Transformation, Culture, Leadership, Learning & Development, Management
Why Businesses Must Embrace Digital Transformation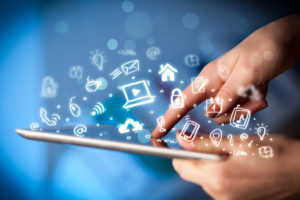 The digital transformation has already begun, and any currently operating business that hasn't incorporated this imminent, transformative change into their long-term survival strategy may not be operating for much longer. Just as the global digital community was getting used to a "mobile-first" world, the exponential development of technology is quickly moving the user experience into the real world.
Instead of real-time social messaging from your smartphone, we will soon be able to visit loved ones in immersive 3-dimensional space through the power of augmented reality. We can already design and create physical objects via 3D printing technology, limited only by the bounds of our imagination. Drones are already delivering goods to our doorsteps, while self-driving vehicles safely transport passengers with astounding precision.
The digital transformation has already arrived.
In the next few years, the public will witness a fundamental change in the way we interact with the world around us. Profitable enterprise has always been driven by consumer demand, so businesses must stay ahead of the curve to keep up with a customer base changing as fast as our own technology.
The Benefits Of Digital Transformation
Business is changing fast, but that means new frontiers and opportunities for growth. For example, the Internet of Things (IoT) is projected to save businesses $1 trillion annually by the year 2022. IoT will cut maintenance costs, streamline service delivery, and lower overall consumption across the globe.
As advanced technologies like virtual reality (VR) and augmented reality (AR) become widely accessible, daily life may never be the same. VR and AR already constitute a $150 million industry, creating authentic B2C connections in the real world via spatial engagement. Furthermore, augmented reality is revolutionizing market research practices, allowing for greater control and efficiency at a fraction of the cost.
As the digital transformation continues, traditional supply chains will be infused with comprehensive digital inter-connectivity and operational transparency. Every link in the supply chain will affect all others, and the power of logistics will connect business with customers like never before.
Possible Ways To Implement New Technologies
To fully leverage the changes and opportunities afforded by the digital transformation, businesses must engage in careful change management. By controlling impact in a strategic and prioritized manner, management maintains user confidence while implementing necessary changes for sustained viability.
This all begins with an understanding of customer demand, which is defined by desired access to technology and convenient ease of use. Retail shopping is a shared user experience that mentally connects consumer with a business, so utilizing innovative technology like IoT for greater convenience establishes an authentic connection that could last for years. The digital transformation is driven by consumer attitudes, responses, and current demands, so utilizing timeless consumer psychology to drive brand loyalty while implementing these new technologies is key.
Current projections indicate that by 2020, 30% of all online interaction will be done via voice interaction, a critically important technology to consider when developing future digital outreach plans. Consumers will not be sitting as a keyboard typing short search terms into Google. They are already using mobile voice command to find local goods and services, speaking in full, natural language with short sentences rather than broad, two-word queries. This should be incorporated into all future digital marketing efforts.
Effects of Digital Transformation on Organizational Culture and Team Dynamics
The digital transformation presents business owners with the ultimate test of change management. As our current mobile-centric engagement patterns shift to the Internet of Things, B2C relationships won't be the only affected professional interaction.
Internal operations will change dramatically in the wake of the digital transformation. Employees will find themselves with a much greater degree of "worker enablement" as technology allows for remote completion of daily tasks. When workers can do their duties from anywhere, a feeling of personal freedom and trust leads higher productivity.
Community knowledge and service sharing is a modern trend that can be seen in successful companies like Airbnb and Uber, where the "shared economy" moves from personal ownership to collaborative partnership. Finally, management will be able to provide complete operational transparency as a result of digital supply chain implementation, using precise data collection and KPI metrics to determine internal performance with an amazing degree of accuracy.
Transforming Today: How to Stay on the Leading Edge
The digital universe is blending into our physical world at a rapid pace. Dynamic robotics, machine learning, and the Internet of Things are no longer works of science-fiction, they're right in front of us. Some business owners deplore great changes in their industry, but the organizations that survive are adaptable and focused on driving results, innovative value, and continuous improvement.
The digital transformation is absolutely perfect for the latter class of professional, and new technologies will allow them to meet consumer demand in ways that weren't previously possible.
Other articles you may be interested in: