Home » Change Leadership, Leadership
Change and Culture: Two Badgers Fighting in a Sack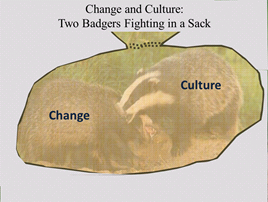 Leading change is at best a challenge. At worst a nightmare as change and culture fight like two badgers in a sack. Realistic? No, but nevertheless intense. Leading during this level of intensity requires that leaders have the skills to prevent culture from over-powering required change.
The conflict between change and culture exposes how traditional leadership development does not prepare executives to lead during high levels of turbulence. Such training lacks impact because it isn't focused on advancing a specific change. This lack of relevance is further diminished by leaders who have limited resources and uncertainty about what they are to stop, start and continue doing.
This uncertainty of how to implement change was highlighted in Focusing Change to Win by Nick Anderson & Kelly Nwosu (2014). This blind-spot often develops when leaders closet themselves away working on change strategy. Then, when changes are handed down to those expected to implement them, executives are surprised by negative responses.
Nwosu & Anderson suggest using the Expectations Framework where leaders communicate what people should stop, start and continue doing and, in return, what their people expects them to stop, start and continue doing. This process is a basis for aligning an organization for a specific change.
Working on alignment first and then as part of change implementation is critically important. Developing a Stop/Start/Continue Language equips leaders with an alignment vocabulary, which is more objective and accessible for discussing competencies and skills.  This creates far greater transparency in communicating performance issues with conviction and confidence. This is the very crux of improving effectiveness.
This process identifies leadership and organizational alignment issues and those problem areas that need tackling. It defines what needs to be done differently; which competencies need developing; and what issues could distract from successful change.  Here's an overview of this process:
Leadership Alignment Process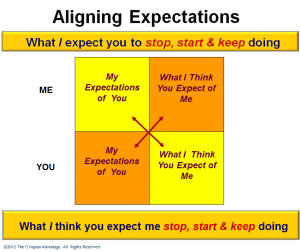 Leaders need to validate their expectations with what others think is expected by them. In return, what others expect of them compared with what they think others expect of them (See Model)
Now, leaders can identify and validate relationship gaps. These gaps stimulate people to honestly talk about what is expected by and from them. It then becomes clearer:
Which critical and complex problems need solving and
Which leadership competency gaps need filling
Such conversations then expose obstacles which can be removed in the second phase – Action Learning which ensures:
Change management and coaching are integrated
People use their skills, knowledge, and capabilities fully
Specific learning is delivered when needed
Learners are respected as adults by helping solve problems
Change and competence are advanced simultaneously
Action Learning
Action Learning's power is in solving problems while developing leaders, aligning people, building teams and improving performance. It has helped create new products and services, saved billions, improved quality and positively changed cultures.
Association for Talent Development found that 66% leaders training uses Action Learning (Experiential Learning for Leaders by ATD Research, 2016)
Corporate Executive Board noted that 77% of learning executives identified Action Learning as the top driver of leadership bench strength (Leadership Development via Action Learning, Leonard & Land, 2010)
BusinessWeek identified Action Learning as the "latest and fastest growing organizational tool for leadership development"(Business Week, 08/07/2005)
Action learning is based on making progress by solving real-world problems and developing practical solutions. It gives managers freedom to learn from each other approach challenges which nobody has yet to solve. It refocuses trainers away from teaching how to manage, toward creating conditions in which all managers learn from each other in pursuit of common goals.
Putting it all Together
Getting leaders and managers "on the same page" results in better change readiness. Combined with Action Learning builds successful implementation by:
Building commitment by giving leaders credit for what they
Avoiding unnecessary language to already cloudy corporate cultures
Making better use of existing resources
Learning by resolving real-problems in real-time
Developing leaders and organizations at minimal cost by solving difficult challenges
Gaining and retaining buy-in
Developing each person's role during change
Combining responsibility, authority, and accountability
When combined Expectation Alignment and Action Learning can dramatically improve change implementation and improves business performance.
Other articles you may be interested in: