Home » Change Leadership, Culture, Human Capital Management, Leadership, Learning & Development, Management
Continuous Learning as a Catalyst for Change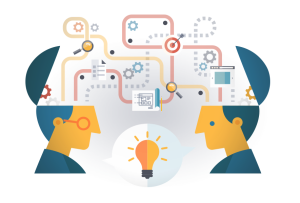 When is the best time to stop learning?
Anyone preoccupied with implementing change strategies may laugh off the question as too obvious to warrant consideration. We are learning constantly just to keep up; for a busy professional, there is no snooze button on learning.
Yet there is a peculiar tendency among many, varied organizations, to put the onus of lifelong learning on individual staff — rather than providing built-in support.
Schools are for learning, conventional wisdom holds — and workplaces are for working. Education, in effect, is a prerequisite for recruitment, rather than a key component of employment. On the job, we imagine that ought to have ample opportunity to continue learning by doing; as long as we are busy at work, we at least have an opportunity to take lessons from our work, improve processes, and ultimately drive change.
Intentionally or otherwise, this creates the expectation that the best time to stop proactively learning, is when a job offer is made. At that point, education has served its purpose, and the inertia of employment kicks in.
It is important for leadership to recognize that inertia works two ways: an object in motion will tend to stay in motion; an object at rest will tend to stay at rest. Even as we learn to put greater emphasis on change management strategies, and try to foster ever-more nimble organizations to cope with the fluidity of the modern working environment, we neglect the important and powerful model of lifelong learning that prioritizes education continuously — not just in the first phase of life.
Lifelong learning — especially in the workplace — gives change management momentum, rather than making adaptation a series of Start-and-Stop events that disrupt routine.
We have a tendency to make changes in scalable, incremental pushes, and put a great deal of weight on the standardization and duplication of processes — hence the popularity of Six Sigma as a change management vehicle.
But organizational evolution is less exciting than personal development. Prioritizing continuous learning better equip everyone — not just Black Belts — to be agents, even leaders, of improvement and change. Rather than waiting for directives or consultant recommendations, education can be empowering, and can help spur innovation at every level. Momentum gathers when everyone can contribute; it stalls when everyone is waiting to be told which way is forward.
Rewards (or threats) as incentives can only take people so far, but the sense of self-worth and pursuit of Best-Self can take them much further.
It is difficult to overstate the role that self-worth plays in driving employee performance and behavior. Our identities are deeply caught up in our occupations; as a result, professional development often aligns with personal development. Unfortunately, it is typical to feel that continuing education must be an afterhours pursuit. The sense that personal development should be left at home is demotivating.
Fighting stagnation is a major benefit of creating a vibrant culture — and operational model — that prioritizes learning. Being able to bring that that drive for self-actualization to the workplace improves engagement — and productivity — by realigning personal and professional goals.
Continuous learning can be both a personal and a professional challenge. It is important to frame learning opportunities not as "do or die" necessities, but as growth opportunities.
Much change today is technology-driven. Whether it is keeping up with the competition or pursuing greater efficiency, there is a steep learning curve that comes with adoption of new tech. This learning curve can be intimidating—and, by extension, at the root of change-resistance. In an organization that makes skills development (especially in the context of new technology) a matter of routine, the fear of change can be supplanted by an appetite to master incoming tools and technologies.
This reduces the need to "sell" change to staff, and instead instills a motivation to remain cutting-edge. The need for new skills is self-evident; the engaged staff recognize evolution in their field, and pursue personal development as a matter of professional pride. Organizations can own their tools, rather than feeling threatened by them; workflows are dynamic and personal, rather than static and delegated.
Teaching is the most powerful way to learn, and organizations can take advantage of this phenomenon; or ignore it to their detriment. When everyone has an opportunity to take on the role of teacher, they all learn more effectively as a result. Restricting teaching opportunities on the basis of seniority, certification, or some other limiting measure can exacerbate generational tension and keep good ideas—and valuable skills—off the table.
On the one hand, the staff acclimated to an organization's culture are less likely to be on the cutting edge of the hard skills evolution. At the other end of the spectrum, though, you new recruits, new hires, who have a fresher toolkit of hard skills thanks to their proximity to another organization, or even formal schooling.
Harnessing the power and potential of both groups requires understanding and communicating that everyone needs to learn, continuously. When newer and more tenured staff are expected and empowered to up-train one another, they exchange both cultural values and skills. Bringing the generations together in a culture that values learning makes everyone into an educational asset.
This is an important element of encouraging active learning, rather than the passive hope that everyone is learning by osmosis just by showing up to work.
Learning and education doesn't have to stop once school is out. Any leader or organization aiming to foster a more resilient, adaptive culture would do well to stop relying on the front-loaded model, and find ways to make lifelong learning a central tenet of their own strategy.
Other articles you may be interested in: