Home » Change Leadership, Business Transformation, Leadership, Management
What's So Great about Business Transformation?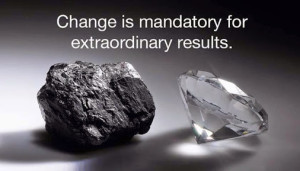 Now there's a question.
Business transformation has been with us for more than 30 years. It began under the guise of re-engineering in the 1980s and, like nearly every other "new" management tool, has been simply renamed as time has gone along.
This can be easily borne out by a looking at Google Scholar. It's true that this is a search engine for academic publications, but many of the ideas that have found their way into organizations had their origins in the research conducted by leading professors.
The search results in Google Scholar make it clear that very little in our understanding of business transformation has changed since we first became acquainted with it. It still requires vision, the right kind of leadership, commitment and, above all, time – something which many managers are unwilling to give. They expect transformation to occur instantly and, when it doesn't, they change horses as it were.
What does business transformation mean?
A synonym for transformation is metamorphosis. An antonym is preservation.
Think back to your earth science class when you studied geology. Rocks that were metamorphosed became something else. Granite, for example, became gneiss – a different rock. It's not the sort of process that you're likely to see in your lifetime.
One which we can see in a very short time is when a caterpillar becomes a butterfly. This process takes about a month, depending on the species.
In both cases, however, there is almost no trace of the former in the latter; and that's what is required to transform a business.
How is it achieved?
Simply stated business transformation is a process whereby all parts of the business are broken down into their smallest parts and altered in some way to bring marginal change improvement individually so that when they are collectively reassembled major improvements can be realized.
For example, if you had 100 people in your organization and they each improved by a mere one percent, however you chose to measure that, then theoretically you could achieve a 100% improvement. This may seem like an oversimplification, but if you can do that with your processes, then you can transform your business, too.
There's a real world example of where someone actually did this on an individual basis. He took the time that was required in each case, and the results were nothing short of astounding. The person is John Wooden, the late coach of the UCLA Bruins; a basketball team that under his tutelage won 88 games in a row. If one man can do that with a handful of basketball players in the space of a few years, imagine what you can do in your organization with a little commitment on your part.
Resistance
Organizations that resist transformation seek, by definition, to preserve themselves in their original form. It matters not what benefits they hope to realize. When they resist the process, they guarantee that their results will remain unchanged. It's as if a caterpillar decided to fly!
The problem seems to stem from the fact that organizations are inherently designed to maintain the status quo of stability and resist change; and that means that transformation on the scale envisioned by leaders is very challenging. They are simply unwilling to relinquish the control that's necessary in order to get the results that are promised by it.
Benefits
For those who are willing to make the change, the benefits can be significant. Perhaps the most important is the willingness to discard those things that have been done or done in a particular way since the business' inception. The status quo prevents transformation; and so if you can get rid of it, then you're on the road to the change that you say you want.
Removing the status quo can be like opening the windows on a spring day. It lets in fresh air: fresh ideas and new ways of doing things. It can energize people by making them want to improve their working practices and to make suggestions. And the beauty of the spring day draws people toward its vision.
When that happens, business performance also improves. That's because the people in the organization feel that they have a meaningful purpose for going to work; that what they're doing makes a difference.
Is your transformation on track to make a significant improvement in business performance?
Other articles you may be interested in: