Home » Employee Engagement, Currently Featured Article, Culture, Leadership, Management, Team Effectiveness
On Empathy and Leadership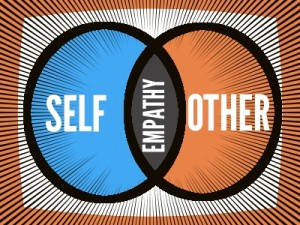 Time for a vocabulary test.
What's the difference between sympathy and empathy?
Think about it. If you don't know the difference, then you'll gain nothing from this article.
The problem is that the two words are now used interchangeably, as synonyms for each other. Even Thesaurus.com thinks they're the same. But when you look at the parts of each word, then you see that an important difference has been overlooked.
Both words contain the root –pathy. This comes from the Greek pathos. Pathos is "suffering, feeling, or emotion."[i] Pathos also gives us our word passion. (If you're familiar with Bach's music, then you will have heard of his St Matthew's and St John's Passions. That should give a clue for where we're going.)
The prefixes should add clarity.
Sym- means "in union" or "acting together."[ii] Em- means to "put into" or "on."
So what does this look like when we combine them?
Sym-pathy could mean "in union" or "acting together" with "suffering, feeling, or emotion." And em-pathy could mean "put into" or "on . . . suffering, feeling, or emotion."
So what's the big deal? It's simply this: the words suffering, feeling, and emotion are not synonymous. What that means is that our understanding of what it means to be sympathetic or empathetic could also be different.
This has huge ramifications for leaders.
How could the meanings be confused?
Perhaps you're wondering how it would be possible for the meanings to be confused. Here's an example to help you.
Have you ever had someone say to you, "I know how you feel" when you know full well that that person never actually experienced what you have? Have you ever said it to someone yourself? That's a perfect example of the difference in the two meanings. One person means feeling; the other suffering. On the one hand you, or someone else, is either trying to offer genuine comfort or be seen to do so, while the other person is actually feeling the pain; and there's a big difference; so big, in fact, that it's not lost on the suffering soul.
Let's consider another example.
When you buy a card for someone who has lost a close relative or friend, how is it generally described? It's a sympathy card, right? You may or may not know how it feels to have experienced something like that yourself, but the sentiment that you want to convey is sympathy.
Why aren't they called empathy cards? Isn't it because we believe that there is a difference between the two words?
Let's take this a step further.
Why is it that leaders are exhorted to be more empathetic as opposed to sympathetic, if the meaning of the words is the same? Is it not because the former is considered to be better in some way? And if one is better than the other, then that must mean that the two are not synonymous.
Thoughts = actions
One of the reasons that it's so important to have a correct understanding of the difference between sympathy and empathy is that when you make a distinction between one word and another it affects your actions. You ultimately will behave according to what you think. Character actors, for example, become the person they are pretending to be for the duration of the scene or play.
Now the problem is that if you haven't actually suffered yourself or if you fail to fully appreciate what it really is like, then your attempts to comfort will come across as superficial, even disingenuous and insincere. That means that you have to be very sure of your ground before you say or do anything. Sometimes the wisest thing you can do is keep quiet and listen; and quite often there won't be any words to hear. But for the person who is suffering, your presence alone will speak volumes.
A helpful distinction
A re-definition of these two words might be helpful.
Sympathy could be seen as, "I feel for you, but I'm glad that I'm not going through it myself." In many, many cases, this is closer to the truth. Few people can are capable of vicarious suffering. If you're honest, then you'll know this to be true of yourself. And that being the case, you won't attempt to be something that you're not.
Empathy, on the other hand, could be, "I'm suffering with you because when you hurt; so do I. I've suffered in this way, I know what you're going through." That is by far the most meaningful.
Both definitions have their rightful place. One isn't any better than the other. They simply distinguish between different situations.
The best leaders recognize when each is appropriate and then act accordingly. The problems occur when they try to pass off one as the other.
Make it your goal not to get the two mixed up.
[i] Word discussion taken from http://www.thesaurus.com
[ii] Prefix discussion taken from https://www.englishclub.com/vocabulary/prefixes.htm
Other articles you may be interested in: