Home » Change Leadership, Research & Studies, Change Management Tools, Recently Published Articles, Business Transformation, Management
Secrets to Business Transformation Success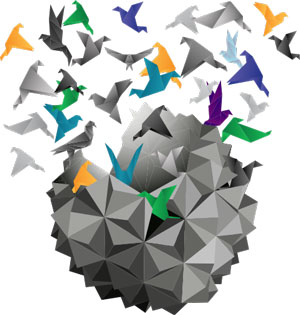 "Business "transformation" is a hot topic — search the term on Google  and you'll return more than a million results. In a recent survey conducted by Forbes Insights/KPMG, 93% of the more than 900 respondents said that they have just completed, are planning or are in the midst of a business transformation.  
But what is business transformation, what distinguishes it from a typical project, and what makes for a successful business transformation initiative?
We define "business transformation" initiatives as having these characteristics:
Significant changes to the organization (e.g., roles, processes, organization structure, reporting relationships, technology, etc.)

A large number of people affected (hundreds or thousands of stakeholders)

More than one organizational/business unit involved, and therefore multiple stakeholders driving and influencing the outcome of the initiative

Multiple interdependent sub-projects or work streams

Long duration (many months or even years) and therefore the need to deal with shifting goal posts due to a changing business environment during initiative life cycle
Business transformation initiatives are typically led by cross-functional teams, whose members include executive sponsors from the highest levels of the company, program/project managers, work stream leads, subject matter experts from functional areas, human resources representatives, and organizational development professionals. Additionally, these teams often include external consultants, who provide strategic approaches and knowledge based on their transformation experiences with other clients.
Successful business transformation initiatives are characterized by six things: a well-defined governance structure, strong sense of urgency, active sponsorship from leaders, engagement across all organizational levels, alignment with the organization's existing systems and structures, and strategies for sustaining changes over the long term.
Business transformations are inherently complex and fraught with uncertainty. It can be a challenge to get each of these characteristics right; but when done effectively the potential for business transformation success increase greatly.
When Emergent recently partnered with a Fortune 500 apparel company to undertake the biggest transformation in the company's history, the initiative incorporated, to a strong degree, each of six critical characteristics: governance, urgency, sponsorship, engagement, alignment, and sustainability. As a result, the company was able to implement a new global structure, spanning the entire brand portfolio, 3,000+ stores, and 130,000 employees located across 40+ countries. You can read more about that initiative here.
Inevitably, at points during a transformation's lifecycle sponsors and project teams want to know "how are we doing?" Project status reports, dashboards, and metrics abound, but they often fail to address the intangibles and overall health of the transformation effort itself.

To address this need, Emergent developed a free online business transformation assessment tool for project teams. TransformationReady (www.TransformationReady.com) is for anyone involved with helping to implement a business transformation initiative. Executive sponsors, program managers, project team members, and organizational development professionals will find the assessment tool useful.
After completing a free five-minute assessment, users receive an e-mail with a link to their TransformationReady results, which include:
A personalized transformation readiness profile

Recommendations for how to strengthen their initiative

Comparisons to Emergent's database of assessment score

Links to business transformation tools and resources
Visit the TransformationReady site now to take a free 5-minute assessment.
TransformationReady was developed by the team at Emergent. They are recognized experts in business transformation and organizational change leadership. Emergent partners with Fortune 500 and mid-market companies across North America to execute strategic initiatives including organizational restructurings, technology deployments, shared service implementations, process re-engineering efforts, and mergers.
Other articles you may be interested in: