Home » Research & Studies, Leadership, Management
Best Practice? Who Says?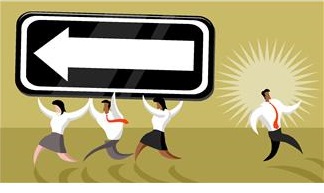 History is a funny thing. For one reason or another, it keeps repeating itself.
Despite the fact that world knowledge is accelerating – it's doubling at the rate of about once per year – many have forgotten to put on their "thinking caps."
Mindlessly, it seems, they have embraced what has become one of the most accepted tenets in management.
Today we know it as best practice.
More than 100 years ago, it was known as the one best way, and the man who discovered it, in modern times anyway, was Frederick Taylor, the inventor of Scientific Management.
Since the term "best practice" was first heard more than 20 years ago, nearly every organization since then has wanted it to be true of them. That's because the pressures of the marketplace have persuaded them that to do otherwise would be to invite failure.
It would be as bad as gift-wrapping its market share and hand-delivering it to other companies in their industry
But, what's particularly remarkable about the whole idea of best practice is that, until quite recently, its veracity wasn't challenged. Rather, it was swallowed hook, line, and proverbial sinker, as if its wisdom was a gift from God.
Pitfalls of "Best Practice" Thinking
For many, it has meant that instead of looking for innovative ways to be more effective, they have simply grabbed their virtual lapels and announced to the whole world that they were proud to be doing what everyone else was doing.
The question that no one seemed to ask, however, was, "Who says?"
Who says that this practice is better than that one?
Who says that this practice can't be improved?
Who says that to do something else is to ignore common sense?
Who says? Has your organization ever asked that question?
Perhaps you think that the market leaders decide what constitutes best practice. Maybe you aspire to overtake them at some point, and you think that by doing what they do, you'll have a shot at it someday.
Maybe it's been your experience that other companies traditionally had better ideas than your company, and so you haven't looked for ways to do it better. Or maybe the question has never come up.
The truth is that best practice is a target; but it's not the goal. The goal is to be better than anyone else in your industry.
But if all you do is aspire to do what others do, then you'll never be better than any of them. And because you'll always be waiting to see what they'll do next, you'll only ever be able to play catch-up. You'll always be the industry-follower, rather than the industry- leader.
Why would you want to limit your company like that? And perhaps more importantly, what should you do now?
Ask Better Questions
Here are some suggestions.
Instead of asking what the best practice is, ask what the best possible outcome should be.
Instead of asking what the industry leaders are doing, ask what you would do if you were in their shoes.
Instead of asking what you can do, given your limitations, ask what you would do if there were none.
What would you if there was no such thing as best practice?
What would you do if your organization had to decide what to do, but couldn't ask anyone else?
You see, that's what the best companies do.
They really don't care what everyone else is doing. They only do what they believe will work for them. The opinions of others simply don't matter.
If you want to be top-dog in your industry, then you need to stop believing in the best-practice-tooth-fairy. Leave that for those who don't know any better.
Other articles you may be interested in: