Home » Leadership, Team Effectiveness
Five Things Smart Leaders Should Do to Ensure Success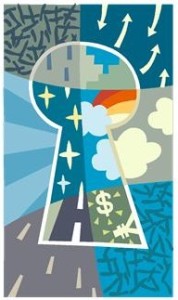 As a business leader you want to start each new year off on a positive note. And, you most definitely want to keep that momentum going throughout the year. But, what do you do after those first couple of weeks when the enthusiasm has worn off and everyone seems to be back in their daily routine? You may just want to use this valuable "quiet" time the last week of the year to develop a plan for sustaining energy throughout the year. Here are five things you should implement each new year to keep your team focused and energized:
Focus on the most important metrics for success. Determine your organization's most important business metrics that influence your team members' thoughts and behaviors on a regular basis. Then, embrace those key performance indicators and make it clear that team members will be held accountable.
Publicly track performance. Chartteam members' individual performance against their personal goals in each of your key business area. Create white boards and graphs to visually demonstrate important metrics as well as to chart success throughout the year. Be sure to put these in an area where the team will see them. Refer back to the charts on a regular basis—whether daily, weekly or monthly—to match your established goals.
Establish a cadence of accountability. As a leader, it is your responsibility to hold your team accountable. Put regularly scheduled meetings on calendars now so everyone knows what to expect in the year ahead. Make meetings a priority and use that time to update each person's performance against the team's goals.  These meetings help motivate each team member to do their part to "fill up the board."
Make it a goal to focus on strengths and weaknesses. Through your accountability meetings with your team, note what you see as strengths as well as areas that need improvement. Certainly leverage strengths, but spend some time developing a plan with your employees to overcome their weaknesses. It's easy to simply accept that someone isn't good at something by giving them a different task, but what you're really doing is burying the problem in the sand instead of tackling it. With some effort on both parts, you'll see greater success and productivity in the long run when that employee has achieved a personal goal to improve.
Consistently seek to improve techniques. As performance data becomes available, use it to target specific techniques that need ongoing improvement. Identify resources now that you can use throughout the year with your team members. It may be formalized training, professional development seminars, online courses or materials. Develop a plan that includes these resources. It's best to be prepared with a process now rather than pull one together at the last-minute when you see something not working. Be sure to keep it simple and allow your team to take ownership.
Each new year is essentially a clean slate. With a little planning on your part now while things are quiet at the office, you can ensure that your team starts the year off strong and maintains that intensity throughout the entire year.
About the Author: Sean Coyle is President of Sandler Training by Peak Performance Management based in Pittsburgh, PA. A dynamic presenter and trainer at Peak Performance Management, Sean helps industry leaders formulate successful management and sales and prospecting strategies daily. Top executives from Deloitte & Touche LLP, CB Richard Ellis, and Hilb Rogal and Hamilton have benefited from Sean's expertise and experience, especially in the areas of new account acquisition and recruiting an effective sales winner.
Other articles you may be interested in: