Home » Recently Published Articles, Talent Management
Winning the Battle for Technology Talent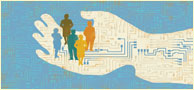 (From McKinsey Quarterly) — Recently, a conversation with the CIO of a thriving, innovative company turned to the biggest hurdles he was facing. Talent acquisition was at the top of his list. He said, "I need a few senior architects. Note that I didn't say good senior architects. I gave up finding good ones months ago. I'd settle for a few mediocre ones—do you know any who are in the market?"
Even with unemployment hovering close to 10 percent in many countries, a remarkable number of CIOs and CTOs we know are having a hard time finding and retaining the talent necessary not only to extract value from investments in such areas as big data and enterprise mobility, but also to undertake everyday IT operations with the required quality, security, and efficiency. These executives are also struggling to get the most out of their existing talent. While they have staff with specific IT skills, they often lack stars who can solve thorny problems that span multiple technology domains and engage business managers on topics such as technology innovation.
Interestingly, companies that heavily outsource technology wrestle with these talent challenges just as much as those that do not; outsourcing changes technology talent requirements but does not diminish them.
This issue is critical for senior technology leaders. Fortunately, our experiences of working with leading IT organizations show that these leaders do have a number of high-impact levers that can be used to develop, retain, and recruit talent.
Other articles you may be interested in: