Home » Change Leadership, Strategic Communications, Program Management, Research & Studies, Change Management Tools, Business Transformation
Five Steps for Conducting Effective Stakeholder Interviews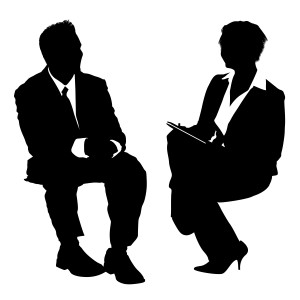 Interviewing stakeholders, along with focus groups and surveys, is one of the primary methods of gathering qualitative data. Insights gleaned from stakeholder interviews provide the basis for stakeholder analysis and prioritization and serve as a critical step in formulating an effective organizational change strategy. Stakeholder interviews done well yield many benefits:
Correct structures, processes, and people targeted for improvement
People who more likely to participate in future interviews
Increased credibility through time well spent together
Accurate conclusions and informed decisions
Positive return on investment (ROI)
There are just as many pitfalls when interviews are not done well – wrong conclusions, wasted time, wasted money, lost credibility, and people less likely to participate next time. Therefore how you conduct stakeholder interviews is very important. The five steps below will prepare and guide you through an effective interview process:
Step 1: Do your homework
Establish the objective of the interview
Determine who you need to interview and understand each person's position and background
Consider interview logistics and secure arrangements
Anticipate issues from an interviewee's perspective
Order interviews strategically
Step 2: Create the interview guide
Include four to six key questions with "probes" for more information
Draft an interview guide
Use appropriate question types to uncover and probe more deeply
Test the interview guide before the interview
Step 3: Open the interview
Introduce yourself
Establish a rapport—remember you're likely viewed as an outsider prying into the interviewee's area
Explain the cover story
Clarify objectives and set the agenda
Solicit feedback on the agenda and discussion objectives
Be responsive to interviewee's interest in discussing additional relevant topics or perspectives
Step 4: Use conversational questioning
Incorporate normal elements of social dialog
Verbalize your understanding ("If I understood you…")
Use neutral phrases to encourage the interviewee ("I see")
Use pauses to encourage the interviewee to go on—most will continue to go deeper into a topic if you let them
Clarify vague comments ("How did you mean that?")
Highlight and clarify inconsistencies
Control the interview only as necessary to ensure you cover all the key questions but allow the interview to influence the order and other interview dynamics
Listen actively for meaning and emotion as well as for the facts
Step 5: Close the Interview
Summarize key points to check your understanding
Review any documentation you have discussed to ensure comprehension
Allow interviewee time to voice concerns related to the purpose of the meeting or situation
Create an open door for contacting the interviewee again for more information or clarification
Thank the interviewer for their time
DO NOT promise results of your other interviews unless you actually plan to aggregate and deliver them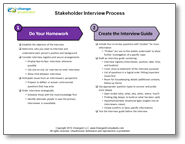 Following these guidelines will ensure that you use your time efficiently and that you gather relevant data and quality information. Download the Stakeholder Interview Process Tool. If you would like help analyzing stakeholders as part of your strategic business initiative, contact us. Also, you can find other valuable stakeholder tools like this one as part of the Change Accelerator toolkit.
Other articles you may be interested in: