Home » Change Leadership, Strategic Communications, Program Management, Research & Studies, Information Technology
Accelerate End-User Adoption with a Strong Organizational Change Capability (White Paper)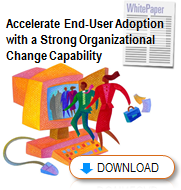 When companies choose to deploy new software to end-users across the enterprise, they are looking to either enhance business performance or minimize IT costs. These goals are often broken down into more discrete objectives such as increasing employee productivity, providing new capabilities, streamlining processes, reducing service desk calls, and so forth. Regardless of whether the software runs "in the cloud" or locally on employees' machines, the economic business case assumes that some percentage of the end-user population will adopt the new software. The projected return on investment (ROI) as defined by the business case depends on achieving a defined target adoption rate.
The Mathematics of End-User Adoption
It is important for IT leaders to understand the role that organizational change plays in driving successful end-user adoption. The most elegant software solution flawlessly deployed will yield a low adoption rate without effective organizational change management.  This point is illustrated in the equation below where the Technical Capability is your software and hardware selections, IT project governance, risk management, resource prioritization, and deployment approach; and Organizational Change Capability represents communications strategy, vision of the future, case for change, stakeholder engagement, and training.

Using a 10-point scale where 10 equals 100% confidence, score your project's Technical Capability (TC), then score its Organizational Change Capability (OCC). Typically, IT project teams will score higher on TC than on OCC. When this occurs, the team should focus on increasing the OCC rather than TC score. For example, let's say you scored your project as follows: 8 (TC) x 6 (OCC) = 48. Increasing your TC score by 2 points will yield an overall score of 60. But, increasing your OCC score by 2 points will bump your overall score to 64 – four points higher than if you had focused on the TC score. This simple formula illustrates how Organizational Change Capability serves as a force multiplier in driving end-user adoption.
Not surprisingly, IT project teams feel more at-home with the technical aspects of the project and tend to be less comfortable with organizational change. As a result, IT project teams naturally spend a disproportionate amount of time focused on technology instead of people. This point is underscored by the March 2011 Gartner study which found that companies under-invest in organizational change management for their IT implementations. Gartner recommends that IT project teams allocate 15% of their budget to organizational change management activities. A savvy IT leader will acknowledge this weakness and seek out experienced organizational change experts to embed into their project teams.
Accelerated End-User Adoption Model
With a strong organizational change capability, IT project teams are prepared to address critical organizational change-related issues such as:
How do we market the software internally and build awareness of the benefits?
How do we create demand that overwhelms desire to maintain the status quo?
How will we manage the end-user impacts and business disruption?
How do we get buy-in from the business leaders for the changes?
How do we handle teams that prefer the current system over the new software?
How do we best use the organization's early adopters to our advantage?
How do we determine the level of training and performance support required?
How do we manage expectations regarding capabilities that may be lost as part of the new software deployment (e.g., third-party plugins)
The Accelerated End-User Adoption model (shown to the right) addresses these issues by helping IT project teams systematically think through the critical elements of an organizational change strategy to drive end-user adoption. This model has aided several companies in successfully designing and implementing an organizational change strategy in support of their software deployment. It assumes at least one fulltime organizational change expert is embedded in the project team, and that the project team is closely coordinated with the project sponsor, business unit leaders, and key internal partners (e.g., HR Department, Learning Team, and Corporate Communications).

To read more, click here to download the white paper Accelerate
End-User Adoption with a Strong Organizational Change Capability (PDF 436 KB)



Other articles you may be interested in: