Home » Change Leadership, Employee Engagement, Program Management, Strategic Communications
How to Select Stakeholder Engagement Strategies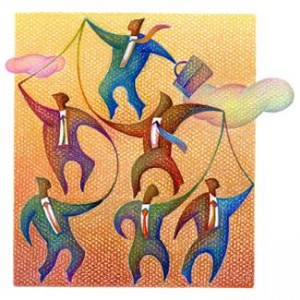 In our previous article, How to Prioritize Stakeholders to Ensure a Successful Change Program, we introduced the Stakeholder Prioritization Map. Now we will explain how to translate that stakeholder prioritization analysis into stakeholder engagement strategies. As a reminder, stakeholders are individuals or groups who either will be impacted by changes resulting from the business initiative, or who can influence the outcome of the business initiative. Engagement is the degree to which stakeholders are involved in the organizational change effort surrounding your business initiative.
Where you plotted your stakeholders onto the Stakeholder Prioritization Map provides a natural guide for which stakeholder strategies to employ. Generally speaking the higher the priority of the stakeholder, the greater the degree of engagement is required. When it comes to stakeholder engagement, there are a number of strategies to choose from. Below is a continuum of stakeholder engagement strategies, arranged by increasing levels of engagement.
Stakeholder Engagement Strategies
Ignore: Not directing communication or messages toward specific stakeholders. Not monitoring or responding to their actions.
Monitor: Paying attention to the actions of stakeholders. This may include dialog with other parties, water cooler chatter, etc.
Inform: Paying attention to the actions of stakeholders. This may include dialog with other parties, water cooler chatter, etc.
Advocate: Enlisting support for a specific effort or position where there is an imbalance or implication of power/ influence affecting the relationship.
Consult: Soliciting explicit feedback or input on a project or plan. There are no commitments made regarding action related to the feedback/ input.
Engage: Initiating or participating in two-way dialog focused on mutual learning and solutions. Requires a commitment to openness, and can have higher expectations for future engagements.
Collaborate: Explicit development of opportunities to work on shared objectives by the team and its stakeholders.
>> Download the Stakeholder Engagement Methods Tool as part of the Stakeholder Engagement Strategy Tool Pack to help you analyze and prioritize your initiative's stakeholders, identify appropriate stakeholder engagement methods, and develop a tactical stakeholder engagement plan.
Related posts: